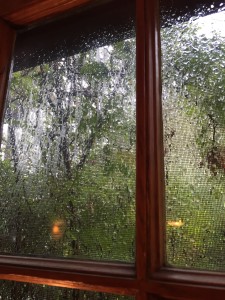 It's a gloomy day in Los Angeles, which turns out to be a good thing, because we need rain and El Niño is letting us down.  Northern California and the Sierras have gotten lots of rain this winter, but down here some sort of high pressure system has kept the storms away.
This is disappointing. I like the rain in Southern California. It's very dramatic – the sky opens up and dumps sheets of water on unprepared Angelenos.  Little kids pull on their rain boots and send paper boats sailing down curbside streams.  The roof – surprised to suddenly have work to do – reveals holes that have gone unnoticed for years.
The last time El Niño passed through I woke up to the sound of water dripping, and discovered a happy little stream flowing from the light fixture in my children's bedroom.  By the time I grabbed a pot to catch the leak, new ones had sprung through, six or seven across the pink ceiling. My sleepy children were delighted. They ran off to get more pots, the youngest lustily singing "Seems it never rains in Southern California…"
I have no idea how she knew that song.
It's gloomy today in Los Angeles, and it's been raining off and on, and the powers that be tell us that the drought is not over but the lovely rain is falling, and my grass is dark green.
G is for gloomy, day seven of the A-Z challenge.  How's the weather where you are?